Concrete Kitchen Benchtops
Improve Your Food with our Kitchen Benchtops
Custom Built Concrete Kitchen Benchtops
At Snap Concrete, we can create the kitchen of your dreams. Our Custom Built Concrete Kitchen Benchtops are made to order, following any size and shape requirements you may have, all delivered and installed by our professional team.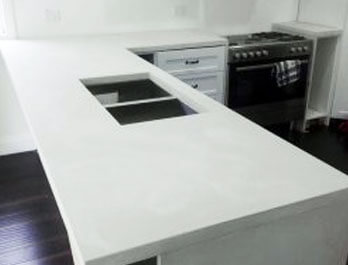 Able to provide you with a stylish and functional food preparation surface our polished concrete kitchen benchtops make Melbourne kitchens complete.
Create something truly unique and personal with one of our Custom Built Concrete Kitchen Benchtops. Each benchtop is manufactured by hand, providing you with a one-of-a-kind kitchen that has a personal touch you simply can't buy from a showroom.
Make Your Home Your Own with our Countertops
Concrete Countertops Melbourne
A stylish and modern option that can immediately add a contemporary feel to your home's exterior or interior concrete countertops have been installed in countless homes across Melbourne. By taking the time to meet with our customers our skilled and attentive team homeowners around the city can trust us to turn their vision into a reality.
Polished Concrete Benchtops
Constructed from durable and sturdy materials, our excellent polished concrete countertops add character to Melbourne homes. Our custom-built concrete countertops and benchtops have improved the look and feel of homes in Albert Park, Glen Iris, Hampton, Hawthorn, and elsewhere throughout the Melbourne metro region.
Barbecue in Style
BBQ Benchtops Melbourne
Not only limited to crafting unique and stylish countertops and benchtops for use in the kitchen or interior spaces our training and hands-on expertise guarantees that we can accurately design and seamlessly install polished or smooth concrete surfaces for outdoor spaces and environments. Able to add an extra level of quality and design to your BBQ area our benchtops allow Melbourne residents throughout the city the opportunity to prepare and serve food. With our concrete BBQ benchtops your BBQ is sure to be a memorable success. To discuss the full benefits of our concrete solutions call 0457 537 171.
For a wide range of stylish and affordable concrete tables, Residents from all across Melbourne including from areas like Albert Park, Blackburn, Brighton, Camberwell, Dandenong, Frankston, Glen Iris, Hampton, Mornington, Mt Eliza, Richmond, St Kilda, Surrey Hills, Toorak, Williamstown & more always turn to the team with 30 years' experience. That's Snap Furniture. Call 0457 537 171 today